I recently stumbled across a thread on LinkedIn which started with the querulous claim:
Do you know any trading system that generates more than $20,000/month profit?
accompanied by a suspiciously familiar looking equity curve:
First of all, here's a screenshot from FXCM's flavour of MetaTrader 4 on January 15th 2015 :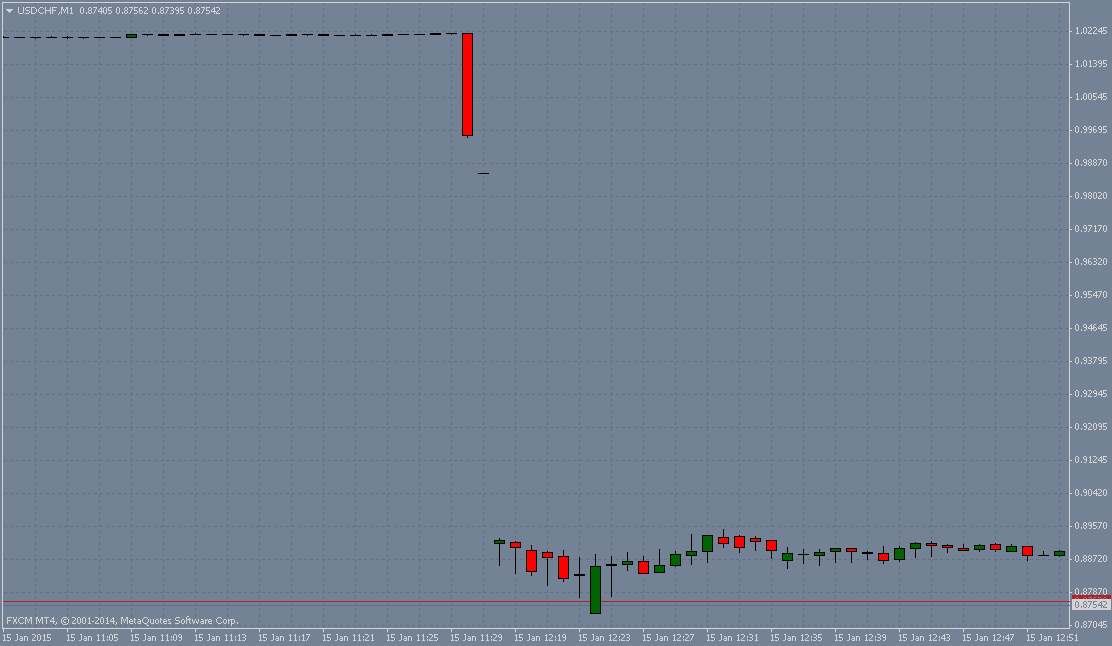 The cause of the big gap was the following announcement from the Swiss National Bank at 9:30 GMT this morning:
It's currently Sunday night UK time, so we've just restarted a variety of flavours of MetaTrader 4 on one of our virtual private servers. They've all automatically updated themselves from version 4.00 build 711 (27 Sep 2014) to the shiny new build 735 (17 Oct 2014), and they've all stopped working! Here's a screenshot showing the symptoms of the problem:
Regular readers will recall that we reported back in 2011 that IBFX had been acquired by TradeStation, itself part of the Japanese Monex Group. Now it looks as though Monex has finished its brief excursion into MetaTrader land. I've received several emails announcing the news summarised in today's headline. According to FXCM's news release:
I don't know about you, but here at the Trading Gurus HQ (TGHQ for short) we've been receiving a veritable blizzard of emails recently saying things like:
Dear Trader,

Please be aware that we have been informed by Meta Quotes that as from Friday 1st August 2014 all clients using a version of MT4 older than Build 600 will not be able to use it, as it will be disabled.
Regular readers of the Trading Gurus blog will know that the Son of Ray the Random Robot™ has been simultaneously spreadbetting a variety of live MetaTrader accounts for nearly two years now. The equity curve for his live GKFX MetaTrader 4 account can be seen to the left of this article.
MetaQuotes have just announced the public beta testing of a new combined MQL4/MQL5 development environment. According to their original announcement about the forthcoming changes to MetaTrader 4:
We have transferred the maximum possible amount of MQL5 language functions and features fully preserving MQL4 functionality. In other words, all powerful MQL5 functions, including ООP and the native code compiler, will become available in MQL4.
It has recently been pointed out to me by a sharp eyed reader of the Trading Gurus home page that Ray the Random Robot has been flatlining for quite a while now. Here's how his equity curve looks at this precise moment in time, courtesy of myfxbook: