Our First FapTurbo Evolution Forward Test
In all the excitement yesterday I forgot to mention that I also bought a copy of the unevolved version of the FapTurbo MetaTrader robot. I thought it would be instructional to compare its performance alongside the far more expensive FapTurbo Evolution, to discover how much better the new "serious robotic system" compared to the decrepit old "MetaTrader child's play" model.
Having parted with my credit card number for the second time that day, I followed the instructions in the manual and opened a demo MetaTrader account with Steve et al's recommended ECN broker, FXCBS. Apparently this stands for "Forex Central Brokerage Services" and is the trading name of the Fienex Group, who it seems are based in the British Virgin Islands rather than the Bahamas. As I installed yet another version of MT4 onto one of our VPSes and then went through the FapTurbo activation process, little did I realise how limited the capabilities of the original FapTurbo robot actually are. Take a look at the results of our first original FapTurbo forward test: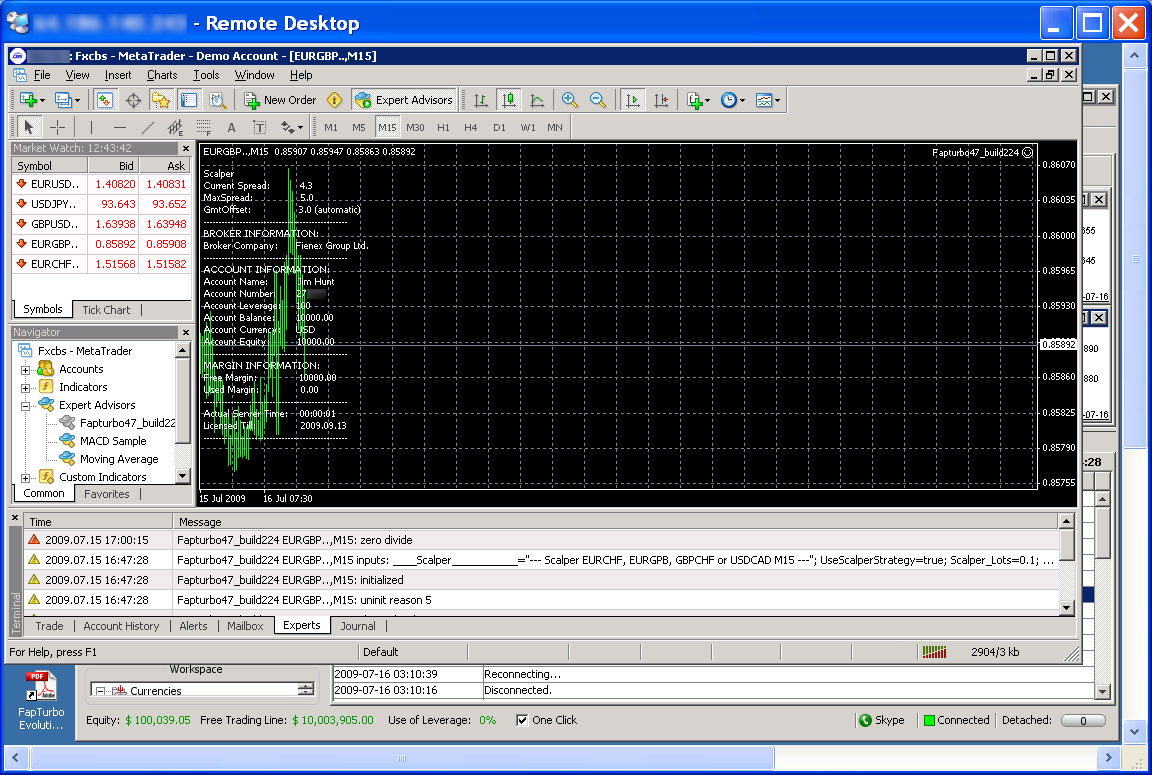 Whilst the Forex MegaDroid appears to have a leaky memory it does at least manage to do its sums and place some trades from time to time.  So far FapTurbo has been unable to do that.  For some reason known only to itself last night it tried to do some division but failed. Then it threw a tantrum and gave up in disgust at it's own incompetence.
We're pretty sure the original FapTurbo should have traded last night, because the shiny new FapTurbo Evolution robot certainly did. We tried it on the EUR/GBP pair to start with, and with the aid of its top secret ultra advanced arithmetic processing unit it managed to do some sums and place two imaginary but nonetheless profitable trades. Here is our demo account statement for last night:



Trade ID

Trade Date

Instrument

Primary Amount

Prim. Cur.

Price

Secondary Amount

Sec. Cur.

Current Price

Current Sec.

Sec. Cur.

EUR/GBP

12565742

15.07.2009 21:10:53

EUR/GBP

100 000.00

EUR

0.8586

-85 860.00

GBP

0.85905

-85 905.00

GBP

12576769

15.07.2009 21:34:07

EUR/GBP

-100 000.00

EUR

0.8593

85 930.00

GBP

0.85905

85 905.00

GBP

12579955

15.07.2009 22:05:42

EUR/GBP

100 000.00

EUR

0.8584

-85 840.00

GBP

0.85905

-85 905.00

GBP

12588661

16.07.2009 02:05:57

EUR/GBP

-100 000.00

EUR

0.858

85 800.00

GBP

0.85905

85 905.00

GBP

0.00

EUR

P/L 30.00

GBP
| | | | | |
| --- | --- | --- | --- | --- |
| Currency | Balance | Open P/L | Equity | Rates |
| GBP | 0.00 | 30.00 | 30.00 | 1.63970 |
| USD | 100 000.00 | 0.00 | 100 000.00 | 1.00000 |
| USD Equivalent | 100 000.00 | 49.19 | 100 049.19 | |
As you can see, we are not in MetaTrader land anymore. We are not dealing with micro-lots, and this is certainly not child's play. The Dukascopy minimum lot size of 0.1 corresponds to 100,000 euros. That is one full lot in most people's language. With the large amounts of imaginary currency Dukascopy were manipulating on our behalf in two trades, one a winner and one a loser, we managed an overall profit of £30.00, which currently works out to be $49.19. Our bottom line, visible in the screenshot above, worked out to be rather less than that though. Dukascopy pretended to charge us commission of $10.17. That's another thing you don't often see in MetaTrader land.
Filed under Trading Systems by Jim