Trader Workstation – Now With Added MultiCharts!
Interactive Brokers have recently released build 944 of their venerable Trader Workstation platform (or TWS for short). They have also made the interesting announcement that:
MultiCharts advanced charting is now accessible from within TWS as a complement/upgrade to our existing interactive charts.

Multicharts.net

The MultiCharts.net tool is available free of charge to IB customers (does not include the ability to trade) and includes:

Advanced charting
Drawing tools and a large library of more than 300 indicators
User-programmable technical indicators
Strategy backtesting
User-programmable trading strategy signals

User-programmable features can be programmed using C# or Visual Basic. To trade from within MultiCharts.net, upgrade for $39.00 per month (following a one-month free trial).

MultiCharts PowerLanguage

Customers who want to trade from within MultiCharts AND who need to program complex custom technical indicators but are not programmers can subscribe to MultiCharts PowerLanguage. This version offers all of the charting features of MultiCharts.net plus the ability to trade, and the addition of PowerLanguage, a more user-friendly computer programming language with a small learning curve that was designed to be used by non-programmers. The PowerLanguage version is available for $39.00 per month (following a one-month free trial).
To summarise, as long as you have an account with Interactive Brokers and you don't object to running Trader Workstation on Windows instead of Linux you can now perform backtesting using the .NET version of MultiCharts at no extra charge. If you want to auto-trade with IB using either the .NET or Power Language flavours of MultiCharts you can do so for an additional $39 per month. Unable to resist the temptation I found the new "MultiCharts" option in the TWS "Analytical Tools" menu: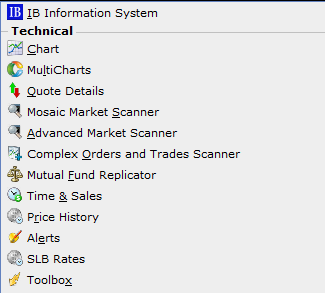 When I clicked it I was offered a choice of which flavour of MultiCharts to download: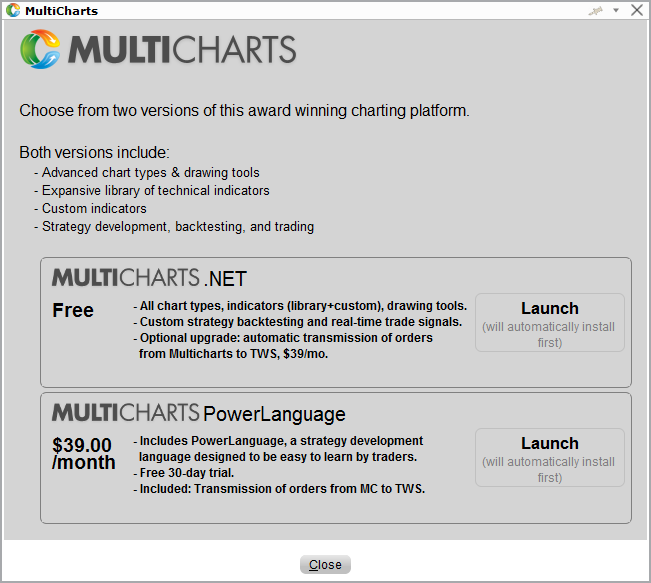 Being a cheapskate I went for the TWS special edition of MC.NET and once everything was installed I tried backtesting Ray the Random Robot, only to be greeted with a very familiar sight:

Unfortunately even if MultiCharts is now more tightly integrated with Trader Workstation it's still a long job trying to download enough historical data to perform a backtest that uses more than a few days worth of one minute bars. Even if that sadly all too familiar message is still there, many other things are not. With the free of charge version of TWS MultiCharts there is no separate Quote Manager, there is no Portfolio Backtester and there are no 3D Optimization Charts. However there is at least a backtester now available bundled with TWS.
As a consequence another thing has just been added to our to do list. We'll now have to try out Ray Robot Junior with the MultiCharts.NET backtester to see if  it is up to the job of producing some results that even vaguely resemble what Ray has managed to achieve in live trading!
Filed under Trading Platforms by Jim