Forex MegaDroid Grinds to a Halt – Again!
I logged into our virtual private server this morning, excited at the prospect of writing about our first month's live Forex MegaDroid testing using real money. That will now have to wait for a while, because I discovered something even more interesting. The Forex MegaDroid robot had completely stopped working, and not for the first time!
Our VPS runs several copies of MetaTrader 4 testing a variety of different expert advisors, and all using live accounts with Alpari UK.  All the others were still working fine, but Forex MegaDroid had apparently stopped dead in its tracks at 16:19:45 British Summer Time yesterday. Here's the sight that greeted my sore eyes earlier today (with some live account numbers blurred out):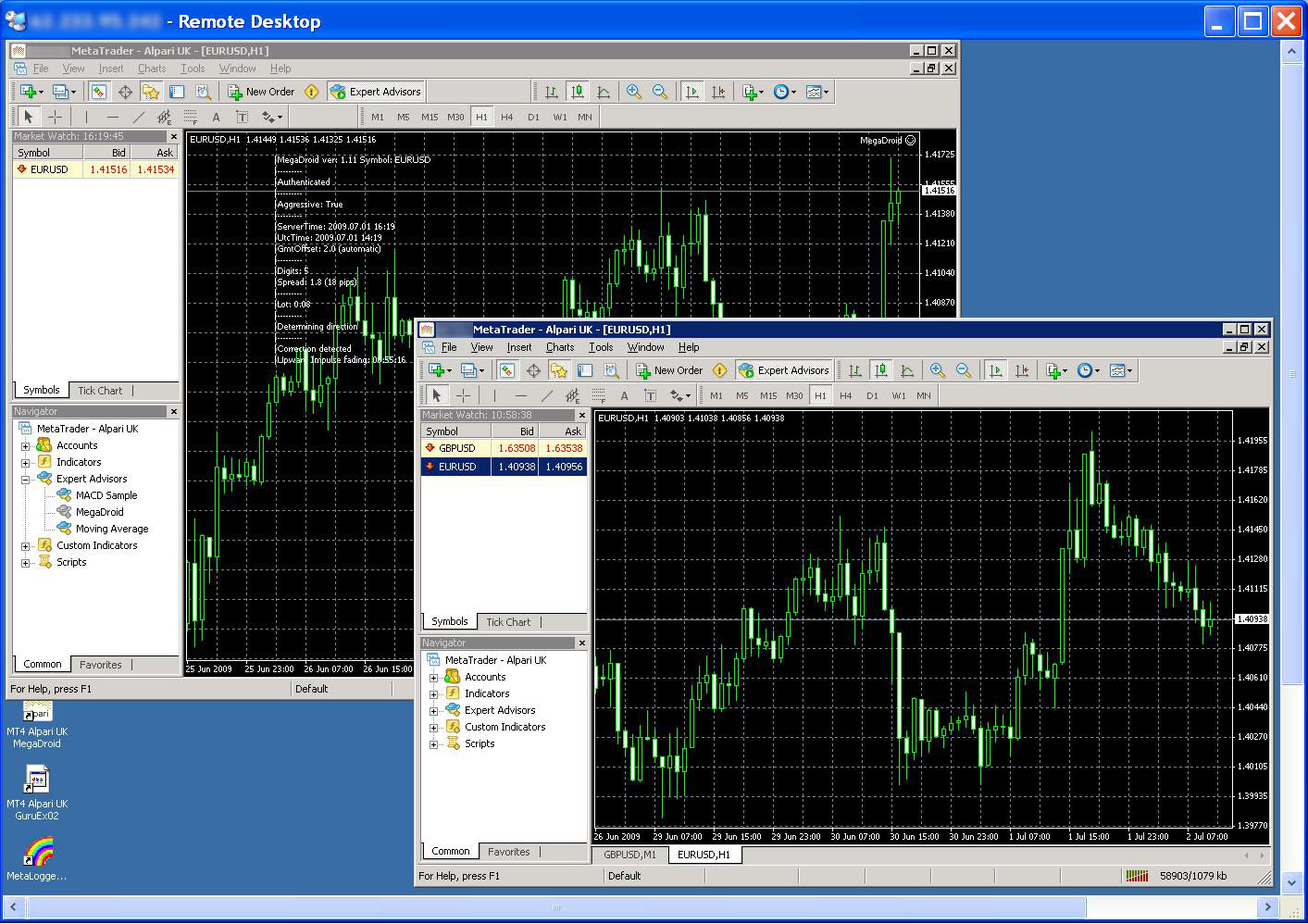 I've shown one of the other live accounts for comparison purposes, and as you can see it was still going strong. However, it looked as though the copy of MT4 running the Forex MegaDroid robot had somehow stopped receiving quotes from Alpari's servers. To test out that idea I opened a new chart for the GBP/USD pair.  The chart opened OK, so MetaTrader itself still seemed to be working. Here's what I saw: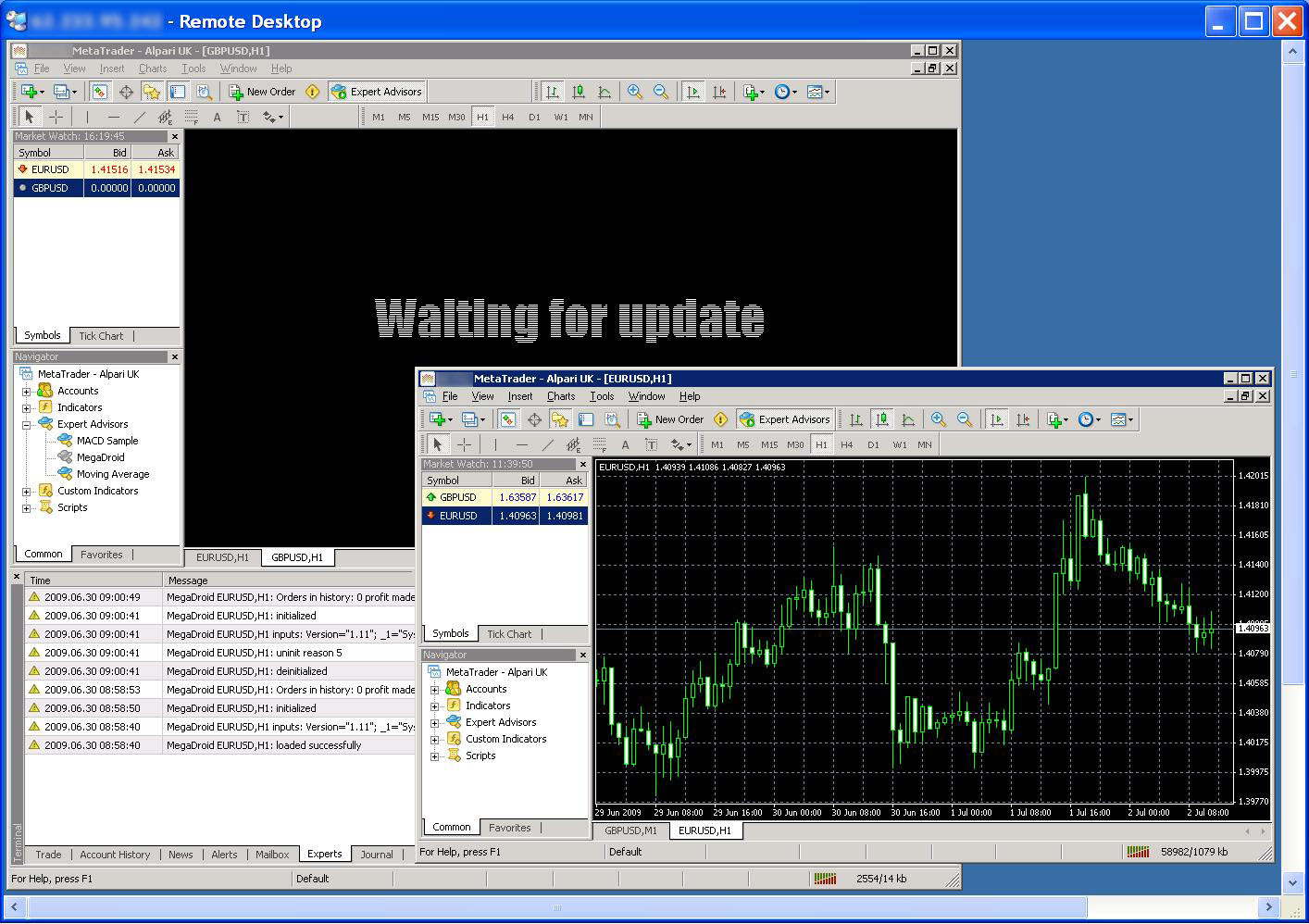 Sure enough, everything seemed to working OK except just that one copy of MetaTrader wasn't getting any quotes. I phoned up Alpari to see what they had to say about the problem, and to find out what they suggested as the best way of fixing it.  I eventually got to speak to one of their senior customer service representatives.  He told me that according to their server log everything was running fine at the moment on that account, and that the last successful login was at 18:00:28 server time on July 1st.  I said that was funny, because according to my client log the last login was at 15:23:43 client time (equivalent to 16:23:43 server time). We discussed the possible causes of the problem for a while, and in particular whether it was likely to have been caused by the expert advisor or by the trading platform. I was told that occasionally MetaTrader "doesn't function perfectly", and that seemed to be the most likely cause in this instance. I asked what I should do next.
Alpari suggested rebooting my computer, but I had to point out that I didn't really fancy completely restarting our testing VPS just at that moment in time.  Instead I tried logging into the account again.  Here's what happened: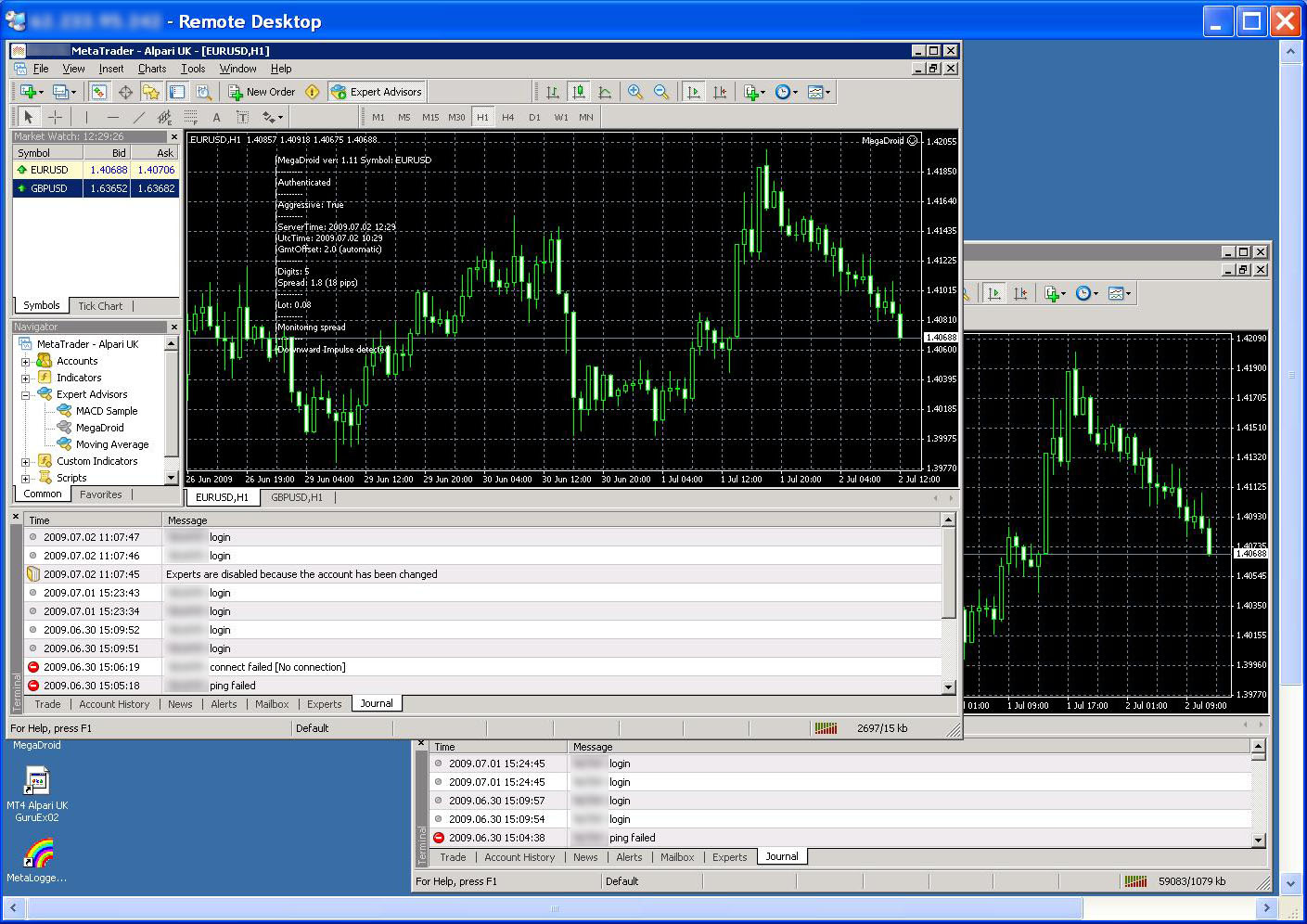 Once I re-enabled expert advisors after the new login Forex MegaDroid happily burst into life again!
As you can imagine, we will be monitoring this problem closely from now on, and we'll let you know if we discover anything else interesting.  Here's something to ponder though. Whatever the cause, the robot stopped working and required manual intervention to get it going again. Would it be a good idea to use a different robot if you are serious about trading forex whilst you sleep?  Maybe it would even be a good idea to use a completely different trading platform? MetaTrader 5 is due to be released later this year. Maybe that will help?
Filed under Trading Platforms by Jim