FXCM's Rocky Road to Japanese Riches
We suggested just after Christmas that FXCM were building an acquisitions war chest, and that's how things are now starting to pan out. At the beginning of this month the Wall Street Journal reported that:
FXCM had agreed to buy the retail trading business of GCI Capital of Japan, adding 20,000 active accounts to the online foreign exchange broker.
Now FXCM have announced in a press release that the deal has been finalized:
FXCM has acquired the retail FX business of GCI Capital Co. Ltd of Japan for $5 million net of cash received, subject to certain adjustments. GCI Capital's retail FX business, which has been operating under the FXCM Japan brand, will provide an excellent complement to FXCM's recent purchase of ODL Japan. The two entities will combine and operate as FXCM Japan, under the FXCM Inc umbrella.
We also suggested not long ago that more forex lawsuits were on the cards, and FXCM has been on the receiving end of another one this month.  According to Michael Greenberg at Forex Magnates an analyst's downgrade after FXCM's recent IPO on top of that first lawsuit led to a fall in FXCM's share price, which in turn led to a securities class action lawsuit against FXCM.
Unfortunately we can't use one of FXCM's own trading platforms to chart the price of its stock, so I fired up MSN Trader instead to take a look at exactly what's been happening since the stock opened at $15.00 following that IPO, briefly hitting an all time high of $15.34 on the very first day of trading. Here's the FXCM daily chart for their first four months as a public corporation: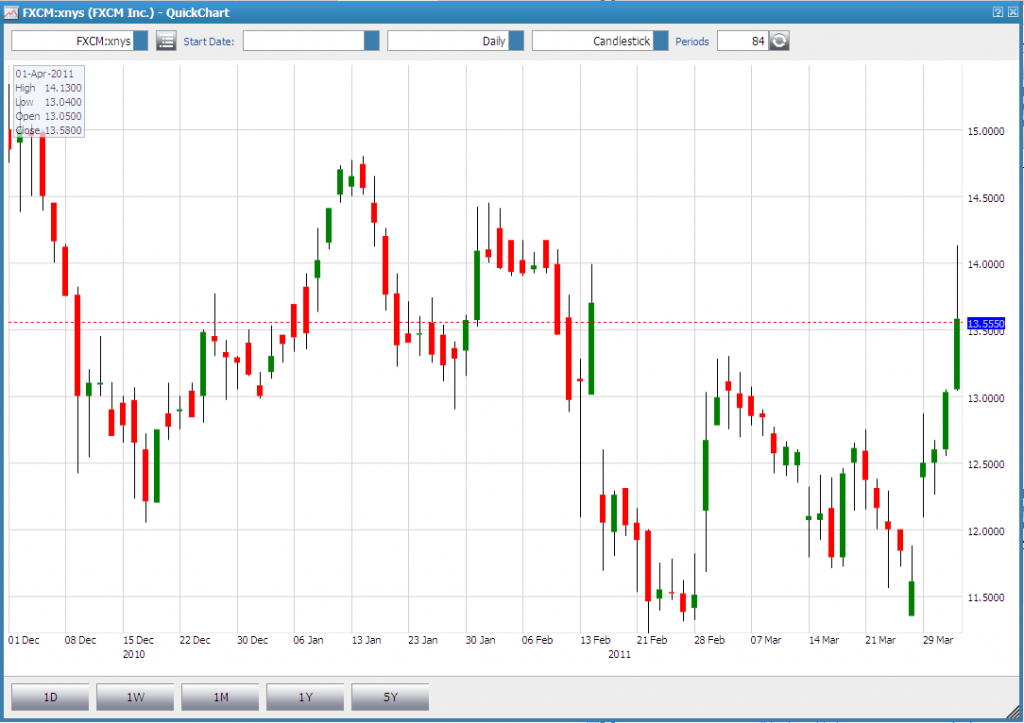 You can see the sudden movement shortly after the first lawsuit was reported, with the stock closing at an all time low of $11.22 on February 22nd. This was followed by a swift recovery during the first week of March, then a steady decline after the second lawsuit was reported. Then last week the stock rebounded quickly once more, touching the original IPO price of $14.00 for a time yesterday before declining once more into the close. What do you suppose caused that? FXCM's acquisition announcement? Probably not in fact, since the markets have been aware of that for the last month. According to Michael Greenberg once more:
FXCM's shares rose almost 11% in an intra-day trading yesterday and closed the day with a %7.7 gain on a speculation that FXCM may be an acquisition target.
Is FXCM the prey here, or is it really the predator?  Personally I agree with Michael that:
FXCM, as it announced, intends to be a consolidator in the retail forex business not a 'consolidatee'.
Whatever the real cause might be, it is undoubtedly the case that FXCM's price has gyrated between $15.34 and $11.22 over the last four months, sometimes moving a long way in a short period of time.  Do you suppose there is some way of profiting from these sudden movements in a stock's price? How about shorting a stock immediately after the initial IPO euphoria for example?  That would certainly have worked out quite nicely in FXCM's case. Until this week at least!
Filed under Stock Trading by Jim