A Visit to the 2016 FIX EMEA Trading Conference
I made my annual pilgrimage to the City of London earlier this week, in order to attend the 2016 FIX Protocol EMEA Trading Conference at Old Billingsgate. The first thing on my agenda was the keynote speech by Vince Cable, who according to his billing:
Served as Secretary of State for Business, Innovation and Skills in the Conservative/Liberal Democrat coalition government. He served in the post for five years, before which he was Lib Dem Shadow Chancellor.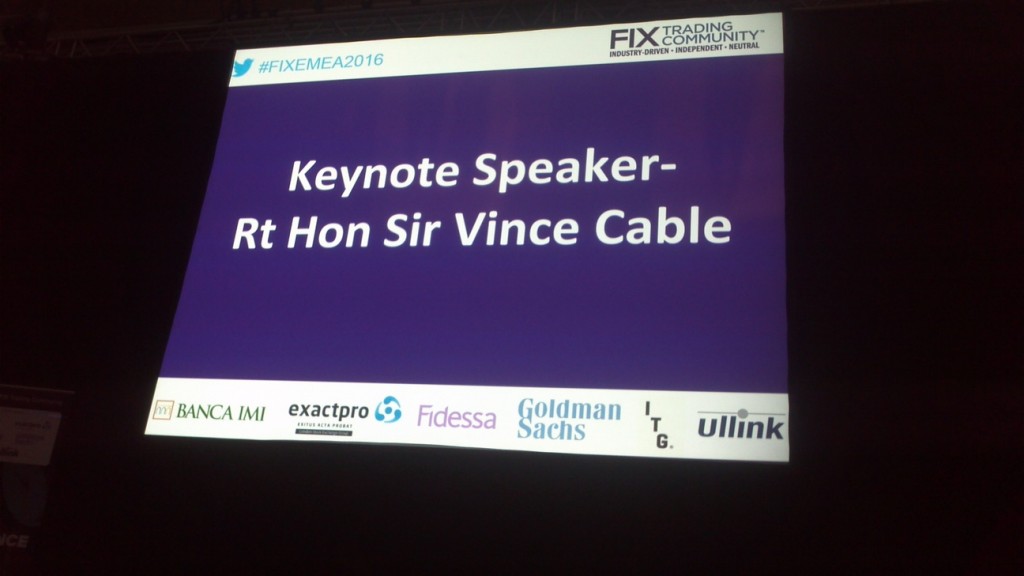 Vince's speech wasn't very optimistic about UK Plc's economic prospects, or indeed the probability that we will still be "In Europe" by the end of our summer holidays. There's already a report from Global Treasury Intelligence that's far more comprehensive than my hastily scribbled notes, so quoting from there:
The possibility of British voters supporting the UK's exit from the European Union in this summer's referendum, which once seemed remote, has grown to as much as 40% in the assessment of Vince Cable.

He said that stagnation and possible eurozone deflation, plus the "crazy world" of negative interest rates, were risks matched by the Chinese slowdown and political instability. The latter could lead to the EU undergoing a 'Brexit' and Donald Trump becoming US president.
Getting more specific about those currently "crazy interest rates", Vince continued:
Volatility on the financial markets – as seen in China since last June – and the slowdown in emerging markets also pose serious threats to the world economy, warned Cable. He told the audience of his concerns that the "very abnormal", "emergency" and "unorthodox" policies of low interest rates and quantitative easing adopted since the 2008 financial crash were "running out of effectiveness" while economies are slowing down simultaneously.

The big risk is that the West could be on the brink of a sustained period of low or zero growth – as has persisted for more than three decades in Japan.

"You are now seeing desperate measures in Europe too, like negative interest rates to stave off the threat of deflation, which is disastrous for economies as companies stop investing. I'm not predicting doom, but we do need to identify the risks."
What are "the risks" you may well be wondering. After all is said and done, I thought many traders quite liked "volatility on the financial markets"! Vince's bullet points were:
The developed world suffering slow growth and possible recession, as EMs also slow down.
Instability in the financial system and concern about whether the new regulatory measures post-2008 crash will work.
Global trade wars, which could break out as cooperation between countries breaks down and an anti-'politics as usual' mood asserts itself.
Click through to GTNews to get more detail on what sounded to me a lot like much more "doom & gloom" from Vince!
Next up was a presentation by Edwin Schooling Latter from the FCA on "Best execution under MiFID II", subtitled "The Exocet is Coming"!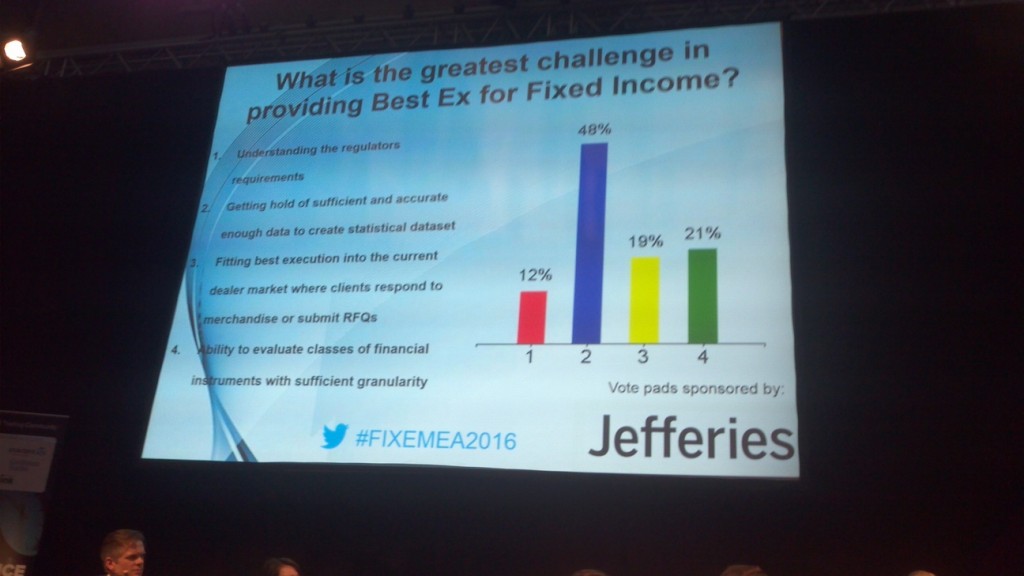 According to Edwin at least, High Frequency Trading isn't necessarily a bad thing:
High frequency market makers don't have deep balance sheets, but pre-electronic market makers took long coffee breaks! In normal market conditions HFT market makers provide a valuable service, but during "episodes of stress" they tend to "run for the hills" when liquidity is most needed.
After the opening debates I headed straight for the FIX "technical stream" of seminars. Here's a few snapshots from the Trading Gurus Twitter feed:
There was no getting away from #MiFID2 at #FIXEMEA2016, even on the technical stream! Hanno Klein of @DeutscheBoerse pic.twitter.com/0ZEhsuywdF

— Trading Gurus Ltd. (@TradingGurus) March 4, 2016
Marc Berthoud & Matt Bumstead explain to #FIXEMEA2016 how #MMT can help rid charts of strange spikes! @FIXTrading pic.twitter.com/Qapc18ZOiB

— Trading Gurus Ltd. (@TradingGurus) March 4, 2016
Jim Northey explains how to pronounce @Itiviti_AB at #FIXEMEA2016. He also said that @FIXTrading is now on @github pic.twitter.com/CRTFZV6svq

— Trading Gurus Ltd. (@TradingGurus) March 4, 2016
According to Jim Northey, Co-Chair of the FIX Protocol High Performance Working Group, the new name for what was CameronTec is designed to conjure up concepts such as "activity" and "productivity" in the field of "IT". I'm ashamed to admit that's not the first image that my own mind conjured up! Jim also pointed out to the assembled throng that a reference implementation of the new FIX performance session layer (FIXP for short) written in Java is now available on GitHub.
The #FIXEMEA2016 #blockchain panel. Nick Williamson of @CreditsVision, Anthony Macey & @peter_c_randall of @setl_io pic.twitter.com/gJr21R5KRw

— Trading Gurus Ltd. (@TradingGurus) March 4, 2016
After all that excitement it was a pleasure to be able to find somebody who wanted to discuss trading instead of MiFID II at the post conference cocktail party. Here's the view out of the Old Billingsgate window: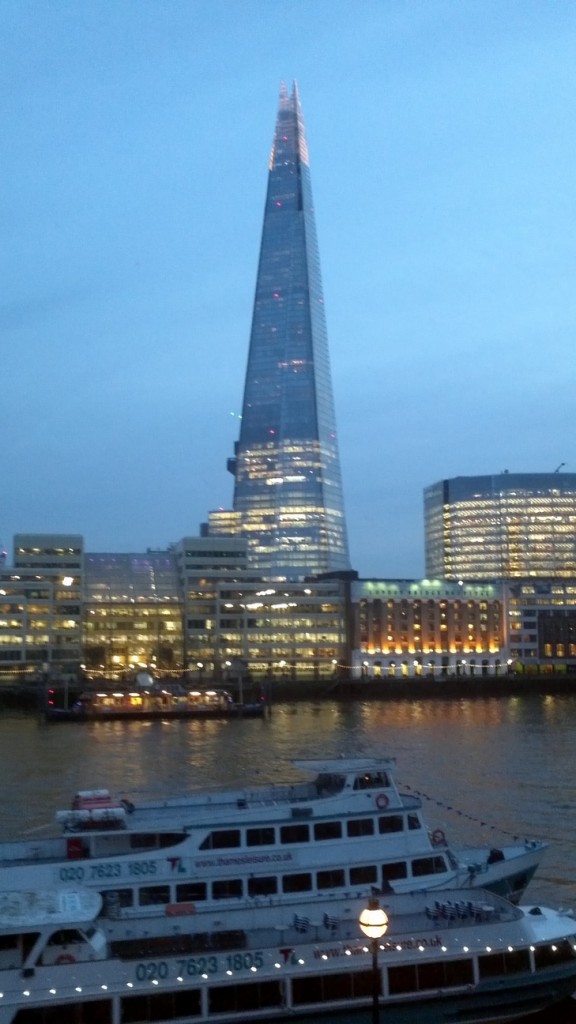 and here's who I shared a glass or two of red wine with:
..DtBkPharmaCo UbsRuCo GabEnvt
-UK • https://t.co/OL0DMxP12J https://t.co/wKLUL6fKFw https://t.co/OUoZab6j6Z https://t.co/pxby6NNAkG ..

— HEDG€FUND⚡️$TRAT£G¥! (@CFAMBAibk) March 3, 2016
Now all I need is somebody to explain Mike's "Tweets" to me!
Filed under Technology by Jim